Pony Background Checks
Ensure Safety For Everyone In Your League
Important Notice on Background Checks for PONY Baseball and Softball
PONY has partnered with JDP to provide leagues with the ability to easily screen your coaches and volunteers at a low cost with fast turnaround time ensuring a safe and secure environment. JDP's National Criminal File Database allows members to search a criminal records database of more than 450 million criminal records – quickly and efficiently.
The JDP National Criminal File Database contains more than 450 million records which include criminal records and some sex offender registry records. The JDP National Criminal File also contains government databases such and Office or Foreign Asset Control and other Federal databases. Click here to see a list of the states covered.
The JDP NSOR searches for all 50 states and includes listings of registered sex offenders. Sex offender registry data in a few states is obtained through a Name-Only-Search and uses no other identifiers such as date of birth and/or social security number. It is very important to notify all volunteers that if a criminal record is identified in any of these states that use Name-Only-Searches, that person will receive a report from JDP showing that his/her name was identified on a criminal record. Please note, this may or may not be the person for whom the league is conducting a background check .
Non-US Citizen Check (without a Social Security Number) contact JDP Customer Service at (855) 940-3232. Additional costs will apply.
If you have already registered, log in above. If you have not registered, use the registration link above.
Note: A letter, which includes a copy of the completed background screening report & Summary of Rights, will be sent to every volunteer where a criminal record from the public records database is reported to your Pony League. According to the Fair Credit Reporting Act (FCRA), you must obtain authorization from the applicant before performing a background check. Failure to comply with FCRA requirements imposes civil liability.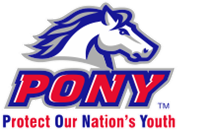 Contact Client Services
(855) 940-3232
pony@jdp.com
Client Service Hours:
Monday – Friday
7:30am – 9:00pm EST
Chat with Support Below
Videos
Video: Batch Direct Order Process
Video: Volunteer QuickApp