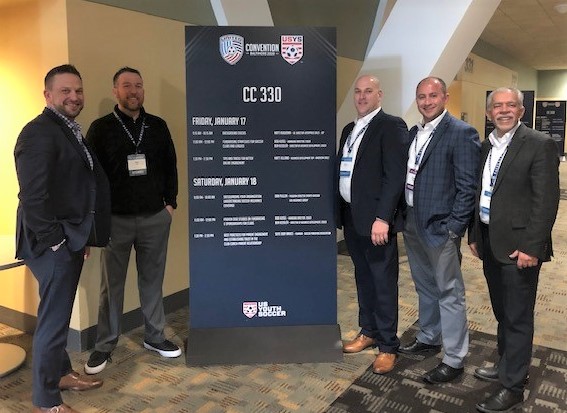 Focusing on eradicating child abuse in Youth Sports, JDP's Lance Pshigoda, Senior Vice President of Sales, and Matt Huguenin, Senior Director of Enterprise Sales, recently spoke on the topic of The Evolution of Background Screening in Youth Sports at the United Soccer Coaches and US Youth Soccer 2020 Annual Convention held in Baltimore, MD January 15-19, 2020 .
Billed as "the world's largest annual gathering of soccer coaches and administrators," the United Soccer Coaches Convention and US Youth Soccer Workshop draws more than 6,300 coaches and more than 14,000 attendees.  During the five-day conference, there were over 250 education opportunities, including this one given by JDP.
"As a whole, the industry is aware of the issue of sexual abuse of our children and the importance of addressing it directly.  With the introduction of SafeSport and the Congressional mandates, it is at the forefront of youth sports organizations' agendas in 2020.  Our job as a Consumer Reporting Agency is to provide a fresh perspective on outdated screening practices and introduce innovative solutions that remove this risk for young athletes.  Opportunities like these round table discussions are important for us to hear firsthand about the obstacles organizations face in building new practices and extend our resources to assist all leagues in promoting a safer environment for our children nationwide," states Pshigoda.
JDP's presentation "The Evolution of Background Screening in Youth Sports" covered how emerging technologies, working in conjunction with standard screening practices, such as the historic methodology of reporting sexual offender history and criminal record history, can be harnessed to close the gaps in the volunteer screening process.
Simply providing public record data is no longer the best solution.  We need to create a broad consortium and network of organizations banding together and sharing data and best practices across leagues, teams, and all sports to best protect our youth and end abuse.
It's only together that this problem is solved, and we were delighted at the reception we received from soccer organizations worldwide on this solution.
JDP is on a mission to End Abuse.  Every Child.  Every Day.
For more information, please contact us at https://www.jdp.com/contact/.